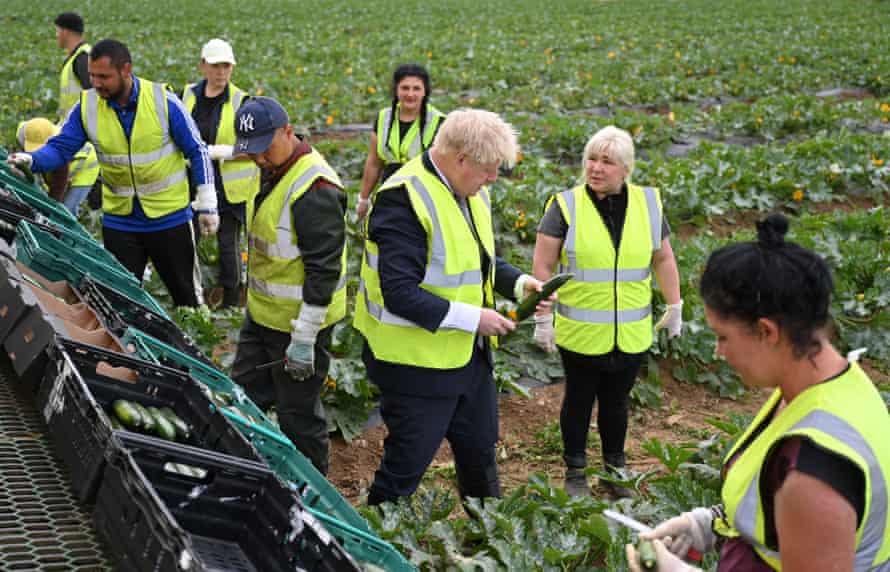 Peter Foster from the Financial Times has a good thread on Twitter explaining quite how far-reaching the Northern Ireland protocol bill will be. It starts here.
Foster also argues that the bill is bound to fail.
Johnson claims bill to let UK abandon most of Northern Ireland protocol 'relatively trivial set of adjustments'
Here is a summary and analysis of the main points from Boris Johnson's LBC interview.
Johnson claimed that the Northern Ireland protocol bill being published today proposed "a relatively trivial set of adjustments in the grand scheme of things". Opposition parties, and some Tories, argue that the plan to allow the UK to unilaterally ignore most of the protocol – an agreement with the EU – would be in breach of international law. Johnson was asked about a note circulating among Tory MPs saying the bill breaks international law.
Asked to accept the bill was doomed to fail because of the extent of opposition to it, Johnson refused to accept that. He went on:
What we have to respect, and this is the crucial thing, is the balance and the symmetry of the Belfast/Good Friday agreement. We have to understand there are two traditions in Northern Ireland, broadly two ways of looking at the border issues, and one community at the moment feels very, very estranged from the way things are operating and very alienated. And we have just got to fix that.

And it is relatively simple to do it. It's a bureaucratic change that needs to be made. Frankly, it's a relatively trivial set of adjustments in the grand scheme of things.
Johnson refused to accept that the bill broke international law. Asked if he agreed that it did, he replied:
I disagree with that, and I tell you why. I think our higher and prior legal as commitment as a country is to the Belfast/Good Friday agreement, to the balance and stability of that agreement, and that means respecting [the concerns of unionists].
This is an argument that Johnson has used before. But if the Good Friday agreement takes precedence over the Northern Ireland protocol, because it came first, perhaps it should take precedence over Brexit too, which also came later and which has also been hard to square with the 1998 agreement that has formed the basis of peace in Northern Ireland?
Johnson said that, if the EU responded to the UK unilaterally abandoning large parts of the NI protocol by starting a trade war, that would be a "gross, gross over-reaction". Asked about the prospect of a trade war happening, he replied:
I think that would be a gross, gross over-reaction.

All we're trying to do is simplify things, to actually to remove barriers to trade between Great Britain and Northern Ireland. How perverse, how preposterous … to be introducing further restrictions on trade when all we're trying to do is have some bureaucratic simplifications between Great Britain and Northern Ireland.
Johnson brushed aside claims from Prince Charles deporting asylum seekers to Rwanda is "appalling". At the weekend it emerged that Charles has said this about the policy in private. Clarence House has not denied that this is what he thinks, but it has said that he is politically neutral, and that it won't comment on private conversations. Asked about Charles's views, Johnson replied:
I think that most people can see that the criminal gangs …. they need to be stopped. That model needs to be frustrated.
Asked again if Charles was wrong, Johnson replied:
Let me put it this way, what I don't think we should support is continued activity by criminal gangs.
Johnson stressed that there were legal options for people wanting to come to the UK. Explaining the need to break the business model of the people smugglers putting migrants on small boats to cross the Channel, he said those boats were very dangerous, and the people were breaking the law. He went on:
What it does is it undermines everybody who's coming here legally, and it undermines people who support immigration, who want people to come here legally and to be integrated properly.
Johnson said that the workers he met on a farm in Cornwall this morning (see 8.40am) had come from all over the world. "But they come here legally," he said. "They do it properly. They're not they're not controlled by criminal gangs. And that is what we want to see."
Since Johnson was fined for breaking lockdown rules in No 10, he has not been in the best position to complain about others breaking the law. But a more substantial objection to this argument is that the seasonal agricultural workers scheme used by the farm workers Johnson met this morning would be no use to the women and children crossing the Channel because they are seeking asylum in the UK, not a summer labouring job.
Johnson said the government had always expected "very active lawyers" to challenge the Rwanda policy. But he also claimed he had "utmost respect for the legal profession". This meant that, by Johnson's standards, this was a relatively benign reference to immigration lawyers. In the past he has accused them of being politically motivated.
Johnson implied that he was opposed to implementing further tax cuts now. Asked about the claim by Gerard Lyons, the economist who advised Johnson when he was London mayor, that Johnson should be cutting income tax instead of listening to the Treasury (which is opposed to this now), Johnson replied:
[Lyons] will understand that we're bringing in tax cuts as fast as we can. But what we've also got to do is look after people in a tough time …

I understand that we need to bear down on taxation, and we certainly will. But we've got an inflationary spike that we've got to get through right now, looking after people as we go through that. And that is what we're going to do.
Johnson seemed to be arguing that he could not implement further tax cuts now because the government needed to fund the measures announced to help people with the cost of living. He may also have been implying that cutting income tax now would be inflationary.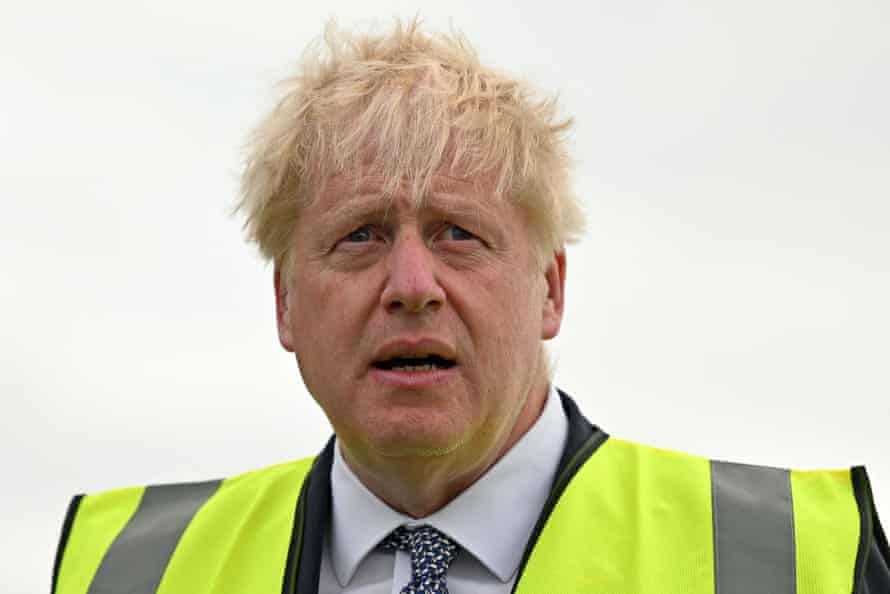 From my colleague Peter Walker
I'm not sure that was really worth the early start. The main takeaway from the interview is that the government still has a lot more to do to improve mobile phone coverage in Cornwall. At times the prime minister was barely audible. If it had been an interview with anyone else, Nick Ferrari would have given up and told him to call back on a landline.
I'll post a summary soon.
Q: When will you cut taxes?
Johnson says the effective national insurance cut next month (because the threshold is rising).
He says 8 million of the most vulnerable households are getting £1,200.
He understands the need to bear down on taxation. But they have an inflationary spike they need to get through now.
And that's it. The interview is over.
Johnson says it would be 'gross over-reaction' if EU responded to UK abandoning NI protocol by starting trade war
Q: Your Northern Ireland protocol plan is holed below the water line because it has so much opposition in your party, isn't it?
Johnson says the government needs to resolve the problems with the protocol.
Q: But it is against international law.
Johnson says he does not accept that.
Q: The CBI says it could trigger a trade war with the EU.
Johnson says that would be a "gross over-reaction".
Johnson dismisses claim from Prince Charles that his Rwanda deportation plan for asylum seekers is 'appalling'
Q: If only one person is on the flight to Rwanda tomorrow, would that justify the flight?
Johnson says it is important the the people traffickers realise their business model is no longer viable.
Q: But you are failing to deport them. There could be fewer than 10 people on the plane.
Johnson said they always knew there would be legal challenges. There are active lawyers in the field. He has respect for the legal profession, he says. But the government needs to break the business model.
These people are offering migrants false hope.
Q: Prince Charles says this is appalling. The archbishop of Canterbury says this is against the judgment of god. How come you know better?
Johnson claims most people can see the case for disrupting the business model.
Q: So you are saying Prince Charles is wrong?
Johnson says we should not continuing activity by criminal gangs. They are putting people on frail boats. And it undermines people coming to the UK legally.
He says the farm he is on has labourers from all over the world, who have come to the UK legally.
Boris Johnson interviewed by LBC
Boris Johnson is now being interviewed.
He is describing his visit to a farm in Cornwall. He says it is one of the few places in the world that can produce vegetables all year round.
Q: Henry Dimbleby, your food adviser, says the plan does not achieve its key aims. So it's a failure, isn't it.
Johnson does not accept that. He thanks Dimbleby for his work.
He wants to encourage more domestic production, he says.
Boris Johnson will be on LBC at 8.50am, we're now told.
GDP figures showing economy shrinking 'disappointing', says minister
George Eustice, the environment secretary, has been giving interviews this morning. He described today's GDP figures as "disappointing". He told BBC Breakfast:
As the world comes out of the pandemic there's obviously a lot of global pressures, particularly inflation and obviously the events in Ukraine and that huge spike in gas prices is going to have a huge impact on the world economy.

We're starting to see that come through and obviously these are disappointing figures.
Here is my colleague Richard Partington's story about the figures.
Boris Johnson has joined farm workers to pick courgettes on a vegetable farm in Cornwall as his new food strategy is launched, PA Media reports. PA says:
The prime minister is being shown how to look under the leaves, select the ready courgettes, twist and turn the vegetables and place them in crates at the back of a tractor moving slowly across the field.

"Beautiful shiny courgettes," he exclaimed.

"They're very prolific, aren't they?"

The prime minister was told to pick up the speed as he picked courgettes alongside a dozen farm workers.

Wearing a hi-vis vest, Johnson chatted to the workers as he was shown how to pick the vegetables.

After they told him they hailed from Tajikistan, Bulgaria, Lithuania and were speaking Russian, Johnson asked what the Russian word for courgette is.

After he picked several vegetables, the farm worker showing him the ropes said: "Once you get used to it you can go a little faster."

Johnson drove a tractor slowly over a courgette field and was shown a modern vegetable planting machine on a Cornwall farm.

The prime minister got into the cab and was shown how to operate the vehicle, moving it very slowly forward as courgette pickers followed behind, sorting the vegetables into crates at the back.

The farmer then showed Johnson a machine capable of planting 150,000 plants a day, saying it is much more efficient than traditional planting techniques.

"So you can plant a lot of cabbage," the prime minister said, describing it as "unbelievable" and "fantastic".

He said his grandmother used to grow prize pumpkins, adding that some "exploded".
Perhaps if all ministers put in a stint on a farm before work every morning that might help address the labour shortage in the industry. This is what the Commons environment committee said about the problem in a report earlier this year.
The food and farming sector has been suffering from acute labour shortages due principally to Brexit and the Covid-19 pandemic. In August 2021, the number of vacancies was estimated to be 500,000 out of 4.1 million roles in the sector. We found clear evidence that labour shortages have badly affected the food and farming industry – threatening food security, the welfare of animals and the mental health of those working in the sector. Businesses have been badly hit, with the pig sector being particularly affected.

The food sector is the UK's largest manufacturing sector but faces permanent shrinkage if a failure to address its acute labour shortages leads to wage rises, price increases, reduced competitiveness and, ultimately, food production being exported abroad and increased imports.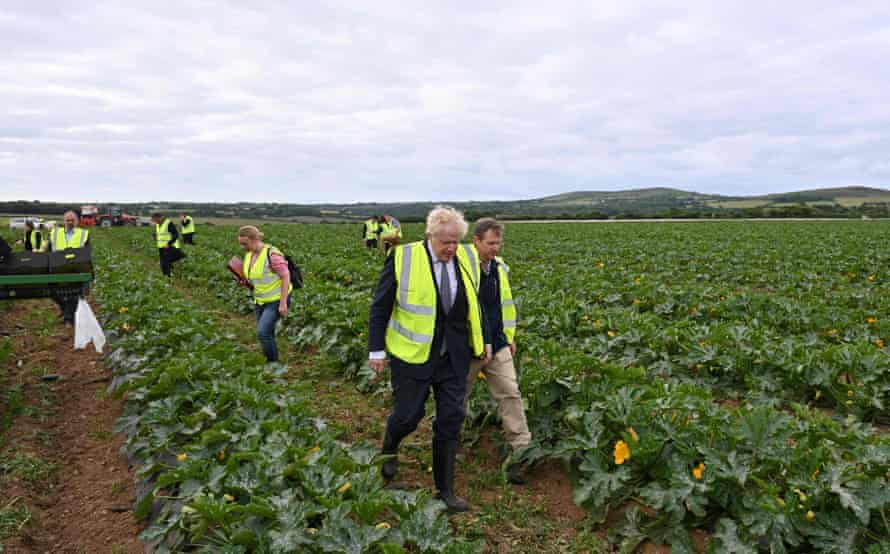 Nick Ferrari tells his LBC audience that they will be hearing from Boris Johnson "later in the show".
This is from Rachel Reeves, the shadow chancellor, on today's GDP figures.
These figures will add to the worry families are still feeling about their own finances and the long-term health of our economy. They will also add to growing concern about abysmal growth and plummeting living standards under the Conservatives.

Instead of properly addressing the structural weaknesses and insecurity they've created, all the Conservatives use are sticking plasters. Labour will create a stronger, more secure economy by boosting our energy security, supply chain security and business security.
We were told to expect Boris Johnson on LBC at 8.20am. As often happens, he's late. He was late, too, for his Good Morning Britain interview, but that time he had food poisoning as an excuse.
Good morning. Boris Johnson is being interviewed by Nick Ferrari on LBC shortly. Johnson tends to grant interviews like this only reluctantly, and his last major intervention in the morning broadcast round – his interview with Susanna Reid on ITV's Good Morning Britain last month – wasn't a great success. But, a week after the no-confidence vote, Johnson is keen to show that his government has not run out of steam.
There is plenty for Ferrari to ask him about. The Northern Ireland protocol bill is being published today, and Archie Bland has a good preview in his First Edition briefing.
Ferrari may ask about data out this morning showing the size of the economy shrank in April. That means it has been contracting now for two months in a row.
The government is publishing its food strategy, which has been criticised by its lead adviser on food issues. We preview that here.
And, of course, the controversy about the plan to fly asylum seekers to Rwanda for the first time tomorrow continues, with two legal challenges still under way.
Here is the agenda for the day.
8.20am: Boris Johnson is interviewed on LBC.
10am: The court of appeal hears an appeal against the high court decision on Friday to allow the deportation of asylum seekers to Rwanda. In a related move, Asylum Aid launches a fresh attempt to get an injunction to stop the deportations at the high court at 2pm.
11.30am: Downing Street holds a lobby briefing.
Afternoon: Liz Truss, the foreign secretary, publishes the Northern Ireland protocol bill. Ministers do not normally make Commons statements to accompany the publication of a bill, but Truss is expected to record a clip for broadcasters.
4pm: Michael Gove, the levelling up secretary, gives a statement to the Commons levelling up committee about the levelling up bill.
I try to monitor the comments below the line (BTL) but it is impossible to read them all. If you have a direct question, do include "Andrew" in it somewhere and I'm more likely to find it. I do try to answer questions, and if they are of general interest, I will post the question and reply above the line (ATL), although I can't promise to do this for everyone.
If you want to attract my attention quickly, it is probably better to use Twitter. I'm on @AndrewSparrow.
Alternatively, you can email me at andrew.sparrow@theguardian.com